What are FANG stocks, and why do we care?
FANG= acronym for high flying tech stocks Facebook, Amazon, Netflix and Google (now Alphabet).
FAANG =FB, AAPL, AMZN, NFLX, GOOGL
FANMAG= FB, AAPL, NFLX, MSFT, AMZN, GOOGL
FNGU =FB, NFLX, GOOGL (FANG X3)- This is a leveraged ETF that holds the FANG stocks x3.
FANG+ Index 3X Leveraged exchange-traded note aims to triple the daily return of an index of so-called FANG stocks, meaning Facebook, Amazon, Apple, Netflix, and Google-parent Alphabet Inc See holding with this link https://etfdb.com/etf/FNGU/#holdings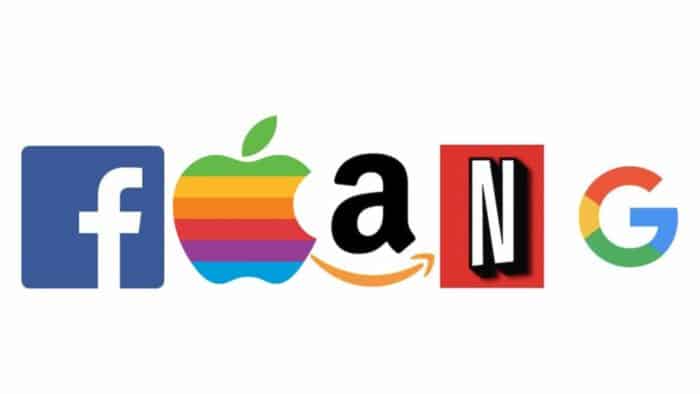 These stocks trade on the NASDAQ and are generally more volatile than the average stock.
Beta measures a stock's volatility in relation to the market. The market has a Beta of 1.0.
Stocks that move more than the market will generally have a Beta >1.0
This Beta is a indicator of risk, and is why many aggressive traders look to FANG stocks to outperform the stock market.
Here is a list of the FANG stock's Beta
Facebook (FB)-.65
Amazon (AMZN)-1.83
Netflix (NFLX)-1.53
Alphabet (GOOGL)-1.18
FANMAG includes Microsoft (MSFT) with beta of -.83
FAANG
Apple (AAPL)-1.11
Do you want Alpha? Then you need Beta!
Alpha gauges the performance of your investments and trades against the market index (benchmark). The excess return of your investment and trades relative to the benchmark index is your Alpha. Most Hedge funds use the S&P 500 as their benchmark, and will trade options and S&P 500 futures (ES) to play catch up for performance.
Another way to get Alpha from Beta is to use stock options. When these FANG stocks TREND, they pay huge with stock options. We use Rules of Engagement(ROE) to trade TREND, and implement "in the money" stock options to avoid decay. Theta measures this rate of decline in the value of an option due to the passage of time. If everything is held constant, an option will lose its value as it moves closer to maturity. This is why it is important to recognize the TREND, as you need to have the right direction with your trades using a decaying asset.
Using Rules of Engagement, identifying market TREND, and incorporating Historical Chart Pattern Comparison (HCPC) gives you the edge in trading. Fitzstock Charts has developed an impeccable track record of outperforming the stock market with ROE, where our winning percentage has consistently been >75% since the launch of the service in 2013. In addition, we have developed the +90% club where over 900 stock options have doubled from our engaged entries. https://fitzstock.com/key-essentials-to-trading-sucess-stock-option-strategies/
The FAANG stocks have been in our 90% club 119 different times with stock options doubling from our entry price.
FB- 23 different trades up >90% from our entry (some over +400%)
AAPL- 20 different trades up >90% from our entry (some over +300%)
AMZN-37 different trades up >90% from our entry (some over +290%)
NFLX- 20 different trades up >90% from our entry (some over +390%)
GOOGL-19 different trades up >90% from our entry (some over +200%)
We use a proven methodology with calculated entries and defined risk.
Learn how to trade the FANG names using stocks and options with Fitzstock Charts.
If you are under performing the stock market with your trades and investments, it is never too late to upgrade to Fitzstock Charts https://fitzstock.com/
Follow me on social media:
Twitter: https://twitter.com/Fitzstock2004
Facebook: https://www.facebook.com/fitzstockcharts/
Linkedin: https://www.linkedin.com/in/david-patrick-a0411110a/
I look forward to helping you meet all your investment and trading goals.
David Patrick
Fitzstock Charts, LLC
Stock trading consultants, historical chart pattern comparisons, key essentials to trading success, trading rules of engagement, learn stock trading, how to read stock charts, stock charts technical analysis, stock trading trends, technical stock trading, how to day trade, stock option trading strategies, how we trade options, stock trading analysis, how to get started trading, stock trading strategies, stock option strategies, learn how to trade stock options, learn how to trade stocks